Size Chart: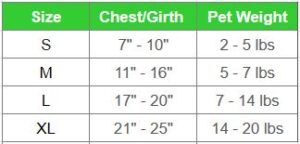 Our Adjustable Mesh Pet Carrier Backpack is the best way to carry your pet around town! Its great for hiking, camping, meeting up with friends or just walking around the neighborhood! The Backpack has adjustable straps and is made with high quality breathable mesh fabric that will ensure a comfortable fit for both you and your pet! Our Backpack is great for carrying Pets who are
Key Features:
Easy and Comfortable way to Carry Pets who are old, injured, get tired when walking for a long period of time, or just love to be by your side!
Fully Adjustable Strap with a leash attachment on the inside of the backpack to make sure your pet is safely secured!
Legs-out and Tail-out openings that will keep your pet safe and comfortable!
Versatile Design which Can be worn on either your front side or back side!
Convenient Side Zippers and Velcro elastic top to easily get your pet in and out of the Backpack!
Made from Sturdy and Durable mesh material that you can machine wash or wash by hand!